I wanted to take a minute to give a big THANKS to my lovely sponsors on my sidebar! Please take a minute to go to there blogs and say HI! Each of them have wonderful blogs, there blogs consist of recipes, parenting, decorating, just the everyday things of life.
Sponsor Love Sunday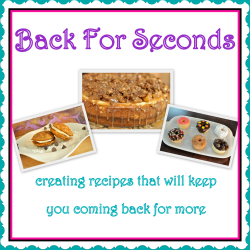 At Back For Seconds I share with my readers all the goodies I've been cooking up in my kitchen. I love creating new recipes and tweaking old favorites. There is no shortage of sweet treats around here as I have a soft spot for chocolate - what girl doesn't? Whether you need a recipe for breakfast, lunch or dinner, or a fun snack to make with your kids, I have you covered! I also love making "skinny" treats that taste completely decadent! I really love connecting with my readers and I hope you will stop by and say hello!
Hey there! I'm Heather from

A Cupcake Love Affair

! When you visit, be ready to read about all things cupcakes and a little about me. I'm a pastry chef who loves to bake, especially cupcakes. I love my family more than anything else on this planet and am blessed to have the greatest friends. I'm a Christian, a woman, a daughter, a sister, and best friend. I'm a foodie who loves simple things with an inner beauty that shines through. I'm just me and I'm happy!

I love my life and am thankful for all that God has blessed me with!! You can find me in all the usual places...
The Terpblog is a mommy blog focused on intentional living, organizing, crafting, exercise, eating well, and family life. I love to record our adventures while we seek to live the width!
Brooke
The Intentional Momma
http://theintentionalmomma.blogspot.com/
*Twitter
https://twitter.com/IntentionalMomm
*Facebook
http://www.facebook.com/pages/The-Intentional-Momma/256493814386531
*Google Plus
https://plus.google.com/b/114538755398901054601/114538755398901054601/posts
*Pinterest
http://pinterest.com/brookemomma/
__________________________________________